Coronavirus (Covid-19) tawh kisai thu leh Kidal kholh dan ding zia te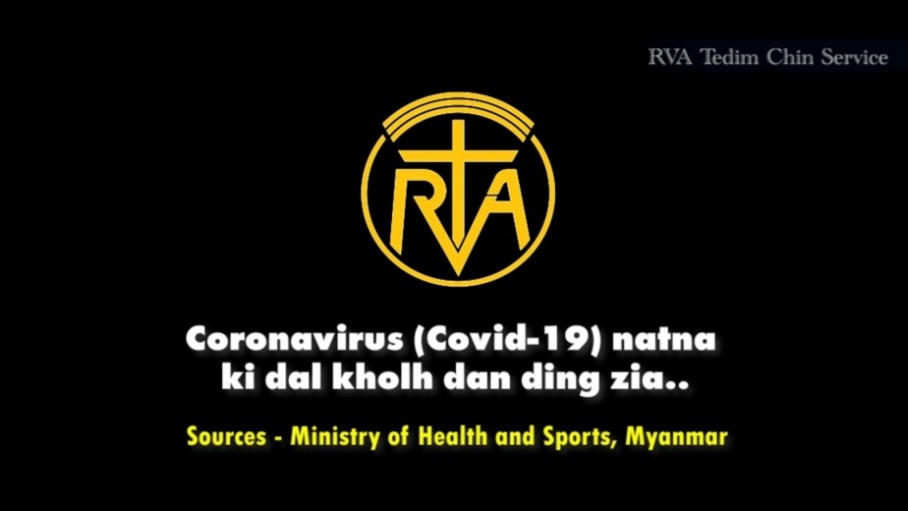 Wednesday, March 11, 2020
Leitung bup cidamna tawh kisai thunei (WHO) ten (9.3.2020)ni kawlgam nai (15:30) hun ciang a thuzak sak na ah, Covid-19 natna pen leitung bup gam 105 ah kizel ta-in natna nei aa ki ummawh a kivel lai pen mimal 109,577 leh hih natna hangin tawh a sikhin mimal 3993 omta hi, ci-in WHO in pulak khia hi.
Leitung bup Covid-19 natna atam kilawh leh tua hangin tam asi pen gam teng in,
Korea - kivel lai 7,382 - sikhin mimal 51
Italy - kivel lai 7,375 - sikhin mimal 366
Iran - kivel lai 6,566 - sikhin mimal 194
Japan - kivel lai 1,116 - sikhin mimal 19
Germany - kivel lai 1,112 - sikhin mimal 0
Sengam pualam aa om Western Pacific ah gam 9, Europe ah gam 29, East Asia ah gam 5, Middle East ah gam 6, The United States of America - gam 7, Africa ah gam 2 leh Palestine, aki gawm in gam (58) sungah Covid-19 kilawh khin ta hi.
Hih Covid-19 natna tawh kisai in kawlgam ah ahih leh (31.1.2020)pan (9.3.2020) ciang natna nei ding in a ki ummawh pen Yangon Region ah mimal (33), Shan Region ah mimal (16), Madalay Region ah (15) leh amun dang pan mimal (21), a kigawm in mimal (85) omta hi ci-uh hi.
Tu laitak in ahih leh leitung bup pan gam 89 in Covid-19 natna ngah lian nailo in tua lak ah kawlgam zong pa hi.
Coronavirus Covid-19 ngah loh nading in kidal khol hun ahi hi. Tua ahih manin Covid-19 ngah loh nang bangci kidal kholh ding ih hiam cih leh
-Nakhut Sapiang tawh siangtak in sil pahpah in.
-A hih kei leh အရက် ြပန် apa khut silna te tawh sil in.
-Khut sil lo pi-in namit nanak leh nakam te lawngkha kei in.
- Buk-khuh in a hatchei te tawh akigam la theithei in om in.
- Nang mah ngiat Bukkhuh, cisa aa na hatchei leh naktuam muktuam surgical mask thuah in.
- Mitam na, pawi om naleh mihon omna te na hih thei zah in pai kei zaw in.
- Na khuh sim in tissue tawh na kam humin, tissue na neih pak kei leh naban tawh bittakin humin. (Na khut peek zang kei in)
- Na zatsa tissue te niin bung ah limtak pai pah in.
- Tua khit ciangin na khut sil kik pah in.
-Tha om nang annek tuidawn ne in dawn in.
- A thupi penpen in abeisa ni 14 sungin Coronavirus omna gam pan hong ciah, ahih kei leh coronavirus anei mi tawh a ki sukha mi hi-in cisa, bukkhuh, naakhaksa cih bangin nang tung hong piang leh nang nadam nading leh na kim leh pam aa mite na dal nadingin zato ah pai pah in.
Kawlgam cidamna tawh kisai thuvai hawm ten kidal kholh dan ding hong gen bangin sempah ni. Ih innkuan pih lawm leh gual te tung zong gen sawn ciat ni.
Hih hong kigelh thu te pen Ministry of Health and Sports, Myanmar Facebook page panin akila ahi hi.