Church Blessing & Inauguration at ChaungKhuah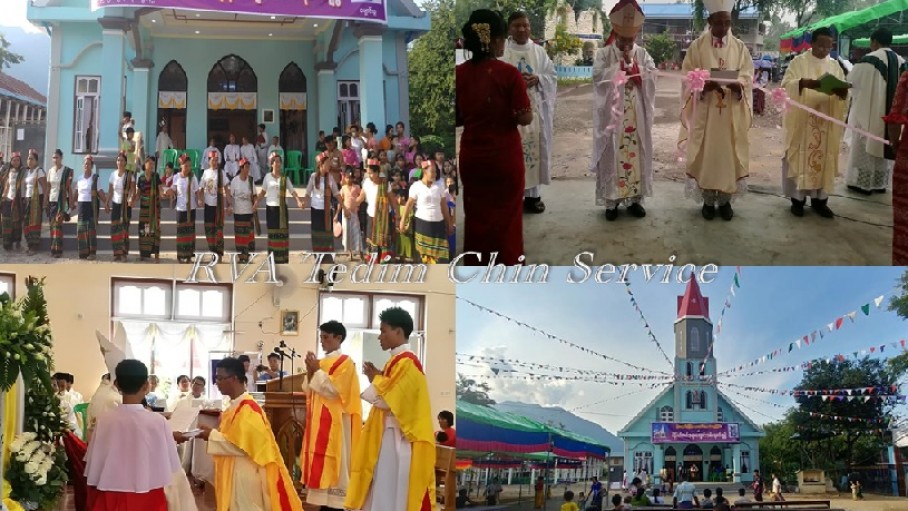 St. Michael's Church Blessings & Inauguration
Monday, September 30, 2019
Good News!
The newly build St. Michael's Church Blessings & Inauguration at ChaungKhuah Village.
Bishop's of Kalay and Hakha came together for this inauguration.
September 29, 2019 ChaungKhuah Khua aa om a ki lam thak St. Michael Biakinnpi Thupha piakna leh Hon pawi September 29, 2019 ni-in nop citakin ki nei hi.
Hakha Siadawpa Msgr. Lucius Hre Kun leh Kalay Siadawpa Msgr. Felix Lian Khen Thang te anih un hong ki hel thei hi.
Biakinnpi thupha piakna leh Kong hon khit ciangin Missa Biakpiakna ki nei hi. Tua Missa biakpiakna hun sungin Brothers te thum in Deacon Ordianation zong hong ngah uh hi.
A mau 3 teng aadingin zong siampi hoih leh Pasian teel ahih thei na dingun thungetna ah phawk ni.
A hoih mahmah Biakinnpi sungah a ki khawm leh Biakpiakna anei mimal khem peuhin Leitung thupha,
Vantung thupha a ngah kim ciatna dingun thungetna tawh panpih in tha pia ciat ni.
#Church, #Blessing, #Inauguration, #ChaungKhuah, #RVA, #Biakinn,