NisimKha-an! Thought of the Day! Philippians, 4:6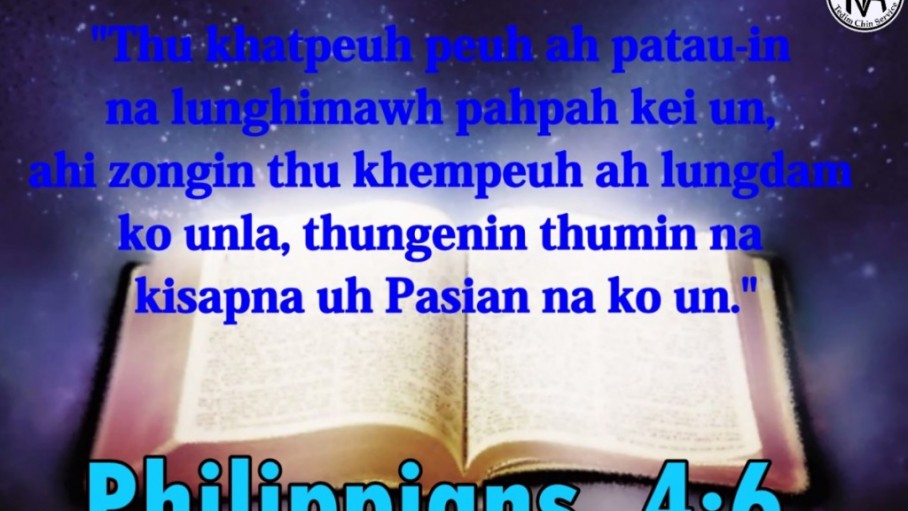 NisimKha-an! Thought of the Day! Philippians, 4:6
Monday, September 09, 2019
NisimKha-an! Thought of the Day!
From the Holy Bible;
Philippians, 4:6 -"Thu khatpeuh peuh ah patau-in na lunghimawh pahpah kei un, ahi zongin thu khempeuh ah lungdam ko unla, thungenin thumin na kisapna uh Pasian na ko un."
Philippians, 4:6 - "In nothing be anxious, but in everything, by prayer and petition with thanksgiving, let your requests be made known to God."
#DailyBible, #RVA, #WordofGod, #Bible, #Laisiangtho, #Tedim, #KalayDiocese, #Zomi, #Gospel, #Reflections, #ThoughtoftheDay, #Biblequites,
Like us on https://bit.ly/2G56oll
See us on https://bit.ly/2XGCVt6
and Follow us on https://bit.ly/2LMA9ek
Follow us on https://bit.ly/2YqcFDv
Website: http://tedim.rvasia.org